indian breads
In northern India bread, a dough of the most ingredient is ready and flattened by rolling. Most Indian bread, like roti, kulcha, and chapati, are baked on Tava, a griddle made up of forged iron, steel, or aluminum. Others like puri and bhatura are deep-fried. The dough for these pieces of bread is typically made with less water to scale back oil soaked up when frying. and you can use all purpose flour ( maida) for all indian breads
They come in various forms—leavened or unleavened, baked, fried, steamed, or slapped across the cavernous walls of tandoor. To date, there are over 30 sorts of Indian bread and that they differ from region to region, with each city putting their spin on the sort of flour used and cooking method applied. But what these breeds generally have in common is their ability to mop up delicious curry sauces or house various sorts of toppings and stuffings.It may be overwhelming to begin and explore the expansive world of Indian pieces of bread, so we're here to assist. Here's a beginner's guide to seven popular Indian pieces of bread and the way to eat them.
poori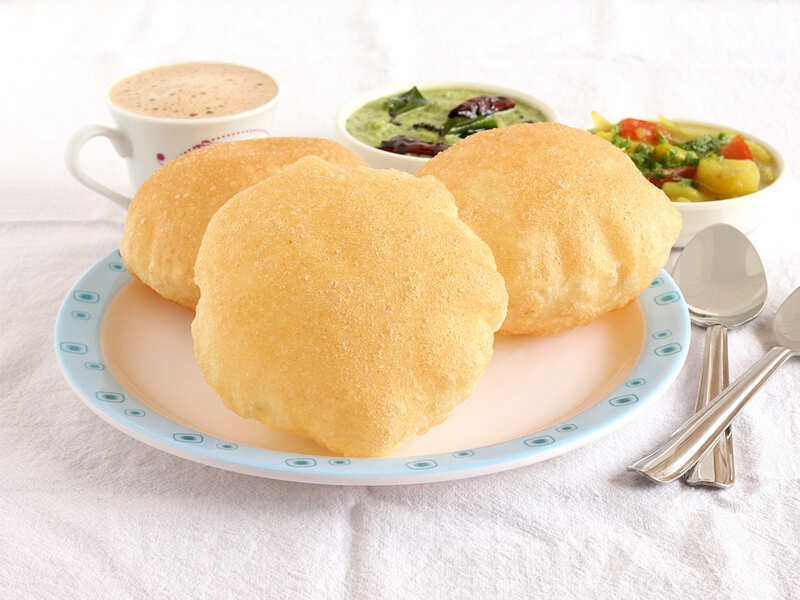 The bread of happy occasions, PURI is unleavened and made with whole-wheat dough and is deep fried. and it is awesome to eat with savory curry with is made by potato and onion. puris are most commnly served as breakfast. its also served as special or cermonal functions as part of ceremonial rituals along with other vegetarein food offered in prayer as a prasadam in nort indian.
luchi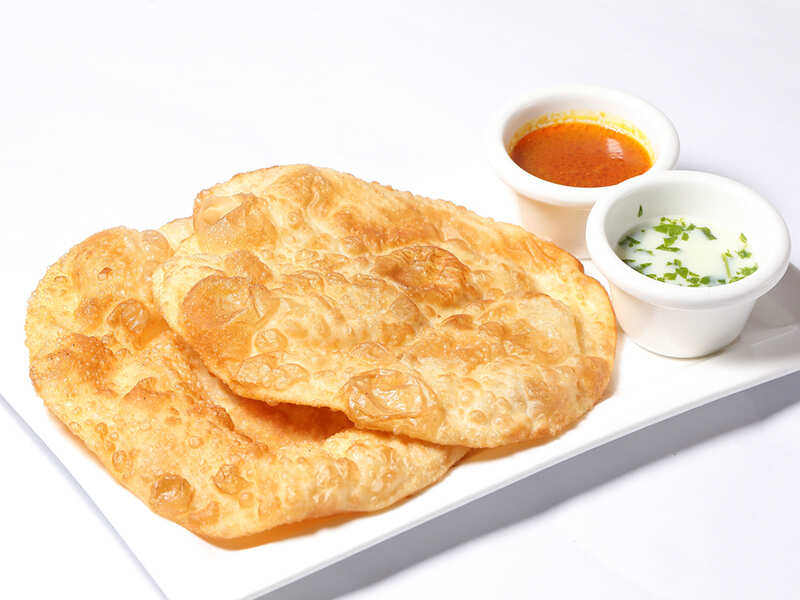 luchi is a deep fried flat bread, made of maida flour,organating from bengal reagion, and luchi is popular in the states ofassam, bihar, odisha,west bengal and tripura. luchi is almost like puri, is more popular in Bengal and uses refined flour instead of whole wheat flour.and it is also served ike puri.
paratha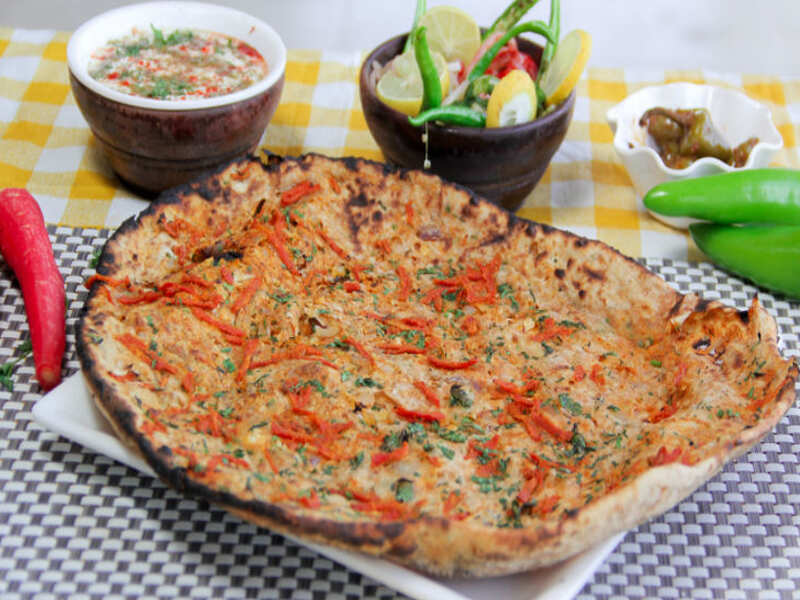 PARATHA is made with two words-parat and atta which means layered bread. A perfect paratha is the one which separates into different layers. It can be made in several ways. The triangle or tikona paratha has several layers that make it light and delicious and the stuffed parathas are slightly thick and can be stuffed with anything from meat to veggies, potatoes, paneer, cheese, sugar, gur and even dals and veggies. and paratha mostly popular in south india. all over the india likes to eat this paratha. and its very popular in south india
naan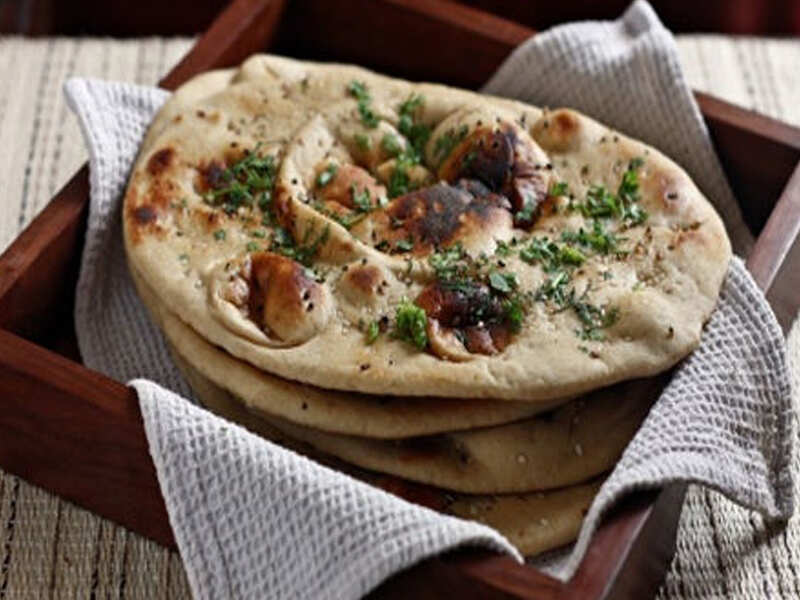 NAAN in Persian means bread. This soft, spongy leavened bread came to India from Central Asia and became an inseparable part of Mughlai food. It is cooked in tandoor and while kneading the dough, usually milk is used instead of water, to make it soft. Typically, it is served hot and brushed with some water but in some other cultures such as those in the Indian Subcontinent, they brush ghee or butter. It can be used to scoop other foods or served stuffed with a filling. [
kulcha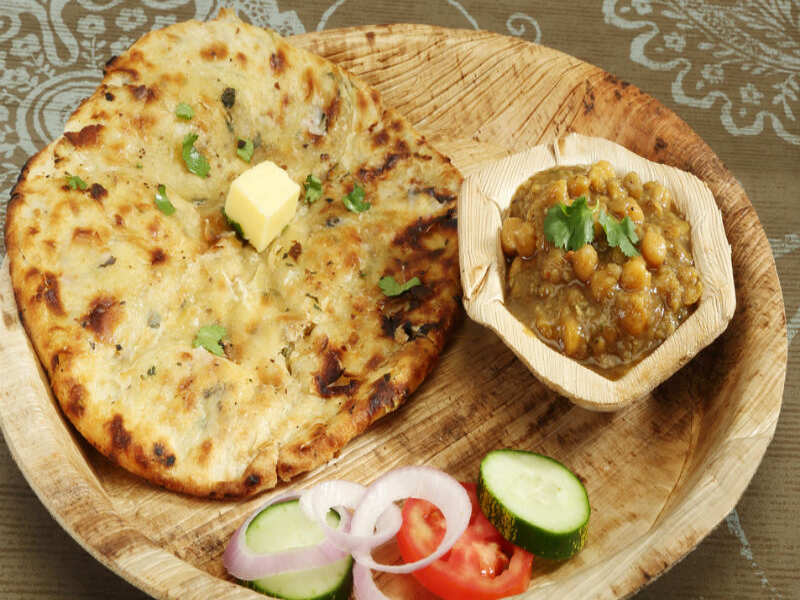 Kulcha is made from maida flour, water, a pinch of salt and a leavening agent (yeast or old kulcha dough), mixed together by hand to make a very tight dough. This dough is covered with a wet cloth and left to stand for an hour or so in a warm place. , it is a leavened flatbread made with refined flour and cooked in tandoor. It is made with or without stuffings.
butter naan
ingredients
Butter Naan is that the most well-known bread and is fast gaining popularity the planet over. The naan bread add substance to form it increase in size. Naan is traditionally cooked during a tandoor, or clay oven. this is often different from from roti or chapatti, which is typically cooked on a flat or slightly concave iron griddle called a tawa.
DirectionsInstructions Checklist
Step 1
In a large bowl, dissolve yeast in warm water. Let stand about 10 minutes, until frothy. Stir in sugar, milk, egg, salt, and enough flour to make a soft dough. Knead for 6 to 8 minutes on a lightly floured surface, or until smooth. Place dough in a well oiled bowl, cover with a damp cloth, and set aside to rise. Let it rise 1 hour, until the dough has doubled in volume.
Step 2
Punch down dough, and knead in garlic. Pinch off small handfuls of dough about the size of a golf ball. Roll into balls, and place on a tray. Cover with a towel, and allow to rise until doubled in size, about 30 minutes.
Step 3
During the second rising, preheat grill to high heat.
Step 4
At grill side, roll one ball of dough out into a thin circle. Lightly oil grill. Place dough on grill, and cook for 2 to 3 minutes, or until puffy and lightly browned. Brush uncooked side with butter, and turn over. Brush cooked side with butter, and cook until browned, another 2 to 4 minutes. Remove from grill, and continue the process until all the naan has been prepared.DirectionsInstructions Checklist
khoya khurchan paratha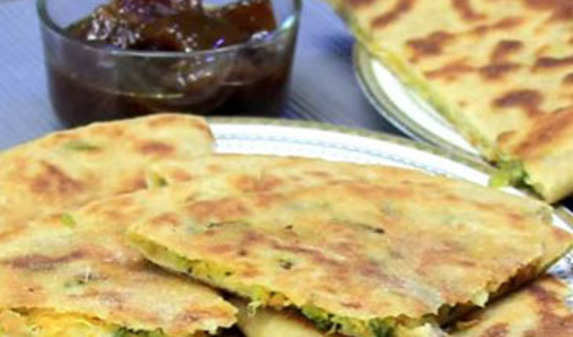 Ingredients Of Khoya Khurchan Paratha
200 gms khoya
1/4 gram saffron strands
5 ml kewda water
50 gms sugar
10 gms cardamom powder
400 gms whole flour
3 tbsp ghee
A pinch of salt
Water (as required)
How to Make Khoya Khurchan Paratha
1. Mix the entire flour, salt during a bowl. Add two tablespoons of ghee and knead into a soft dough with water. Cover the dough with a humid cloth and keep aside for an hour.
2. Grate the khoya, and keep it aside. Soak the saffron strands in 1 tsp. of warm water and increase the khoya mix also add the sugar, cardamom powder, and therefore the kewda water and blend well. Divide the entire flour dough into equal portions.
3. Stuff each portion with the khoya mixture and roll into a ball again.
4. Roll into paranthas. Heat a griddle/hot plate and cook the paranthas on each side and finish with ghee till brown on each side. Serve hot.
Key Ingredients: khoya, saffron strands, kewda water, sugar, cardamom powder, whole flour, ghee, salt, Water (as required